Oral History Project Reflection Essay
When the Keeping and Creating American Communities project began, I had never done an oral history.
Yet, through the training our group of teachers received during our first summer institute, I learned some basic strategies for conducting an interview to gather an oral history. Our facilitators from the Swamp Gravy Institute in South Georgia told us to allow the person you're interviewing to talk:
Be a listener.
Let the person you are interviewing choose the direction of the discussion.
I decided to try out these techniques to gather information for the subject of my team's research-the history of Spelman's early years and of education for African Americans in the Atlanta area during that time. (We had chosen Spelman College's early history as a suitable case study for the "Educating for Citizenship" theme.)

When reading through copies of the Spelman Messenger from my own 1980s era at the college, I found the generational story of the Quarles family (See "The Quarles Family: Five Generations," 1981). I realized that I knew members of the family personally. My husband is friends with relatives of Aunt Ruth (Murial Ruth Ketchum Yarborough), a descendent of Reverend Frank Quarles. I called her on the phone, reaching her at her home in Chicago. I told her about what we were doing with our KCAC project, and how we had come across an article about her family's ties to Spelman.

I asked only a few specific questions during our talk (e.g., about servant leadership). I actually had little need to say anything. There was no stopping Aunt Ruth once she got started.

Not long after the interview, I typed up my rough notes. I could easily identify questions about her oral history that were important to investigate further, and our research team members addressed some of those questions through additional research in the Spelman archive. Still later, after reviewing the materials and notes my team members had assembled after their visit to the archive, I returned to my own typed information from the oral history. At that point, I was ready to weave my own story about Reverend Quarles and Aunt Ruth as educational pioneers with different but related contributions.

Many parts of the interview were quite touching to hear about originally and have stayed with me. I loved the story Aunt Ruth told me about the "Five Miles Still" school road. I loved hearing about her mother's philosophy of servant leadership. I loved discovering the Screen branch of her family tree, and finding that Aunt Ruth had such strong ties to education on both sides of her family.

I found I have similar beliefs about my own teaching. I admire Aunt Ruth's and her Mother Gertrude's philosophy: "take a child where he is and take him where you want him to be."
My only "spin" on this guidepost would be to say that I try to "Take a child where s/he is and help him or her discover where s/he wants to go."
---
Click Here for additional notes on the development of this material

Creating a New Context for Studying African Americans' Post-Civil War Education
by Sarah Robbins

A Timeline of Spelman College's Early History
by Ed Hullender

Father Quarles and Aunt Ruth: Leaders for Spelman and All of Georgia
by Deborah Mitchell




Early Graduates: Writers and Community Leaders
Transcriptions from the Spelman Messenger

Reflections on Writing (from) an Oral History
by Deborah Mitchell

Bibliography
by the "Educating for Citizenship" Team
Content Design/Management: Traci Blanchard and Marty Lamers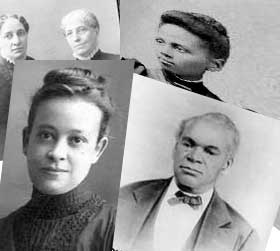 Reflections on Writing (from) an Oral History
by Deborah Mitchell
© 2000-2001KCAC
No materials on this website should be copied or distributed
(except for classroom use) without written permissions from KCAC.
Questions? Comments? Contact KSU webmaster Jim Cope.

Уже направляясь к двери, Сьюзан внимательно посмотрела на ТРАНСТЕКСТ. Она все еще не могла свыкнуться с мыслью о шифре, не поддающемся взлому. И взмолилась о том, чтобы они сумели вовремя найти Северную Дакоту.